Aortic Root Replacement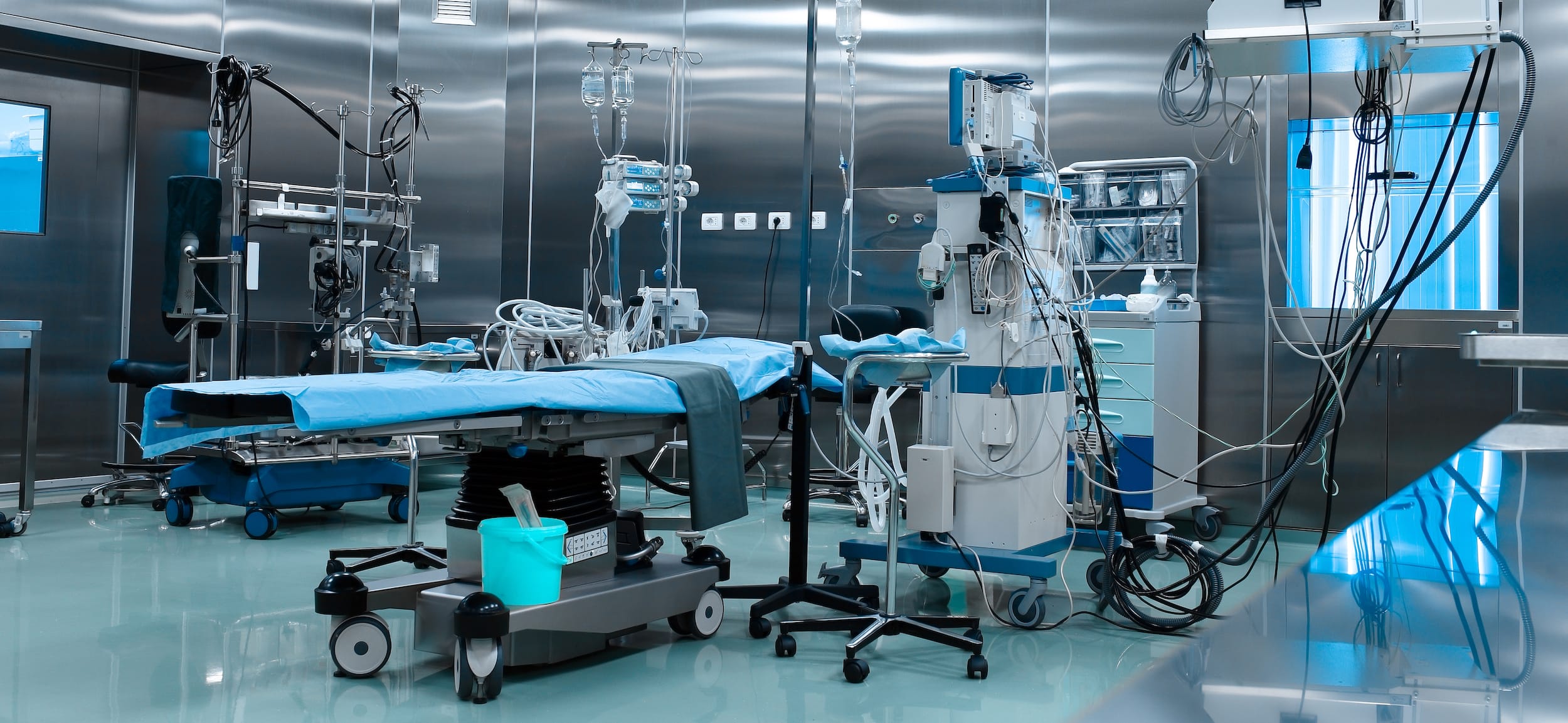 Aortic root disease is often asymptomatic and diagnosed during imaging. To avoid acute aortic syndromes and dissections in aortic root aneurysms (and/or ascending aorta aneurysms), prophylactic surgery of the aortic root should be performed when indicated according to the recommendation of the American Heart Association and European Society of Cardiology guidelines: irrespective of the presence and severity of an associated aortic valve regurgitation, surgery is indicated in patients who have aortic root disease with maximal ascending aortic diameter > 50 mm, even before in case of cardio-vascular risk factors.
Replacement of the aorta and of the aortic valve using a composite-graft replacement with an aortic valve prosthesis has been the standard for decades. This technique is well known as "Bentall procedure" which means implantation of a mechanical-valve conduit and the concomitant requirement for long-term anticoagulation.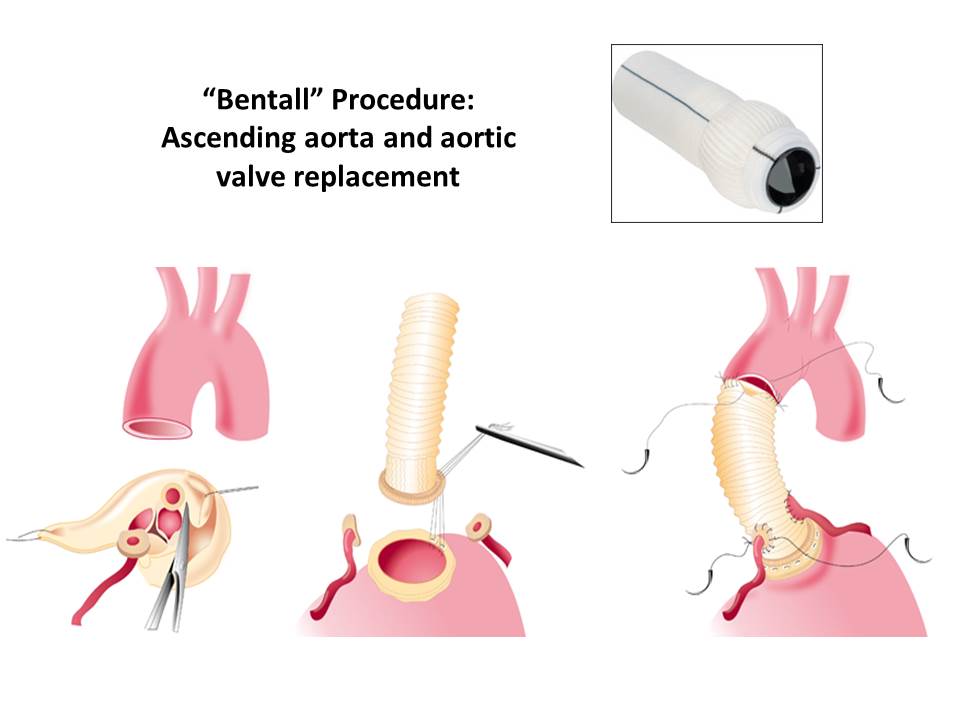 Valve-sparing
Valve-sparing aortic root replacement has become a well-established option for patients with aortic root aneurysms who have morphologically normal tricuspid or non-calcified, pliable bicuspid aortic valves. Valve-sparing aortic root replacement operations are subdivided into 2 general families: (1) the Yacoub "remodeling" technique used since 1979 and (2) the David "reimplantation" technique performed since 1988.
The remodeling technique provides physiologic cusp movement within the 3 reconstructed neo-sinuses, thus preserving root expansibility through the interleaflet triangles, but it does not address annular base dilation. Root remodeling continues to be a viable option in valve-preserving root replacement. If combined with careful assessment and, if necessary, correction of aortic valve form, reproducible restoration of aortic valve function can be achieved. The concept of root remodeling also can be applied to bicuspid or unicuspid aortic valves, although long-term durability is inferior with nontricuspid anatomy of the aortic valve. Because of the lack of annular stabilization, it must be reserved in non-dilated aortic annulus.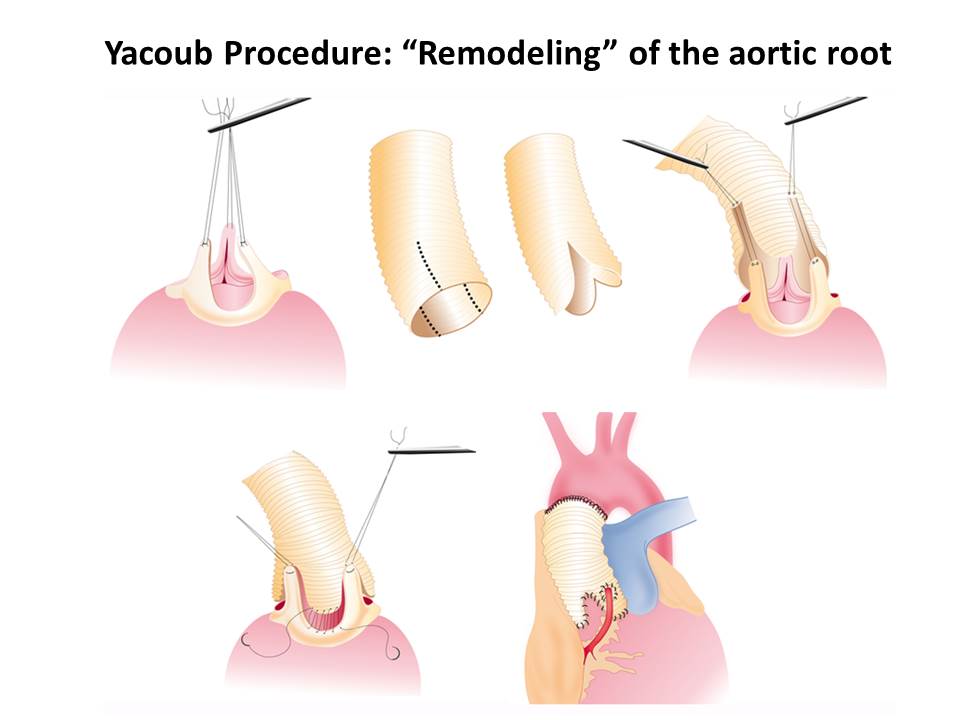 The reimplantation procedure as an inclusion technique performs a subvalvular annuloplasty through the proximal suture of the graft but withdraws the sinuses of Valsalva and includes the interleaflet triangles within the noncompliant prosthesis, thus impairing root dynamics. Furthermore, most failures of reimplantation procedures are due to cusp prolapse, either residual or induced by root reconstruction, and re-suspension of the cusp effective height is more and more mandatory.
David Procedure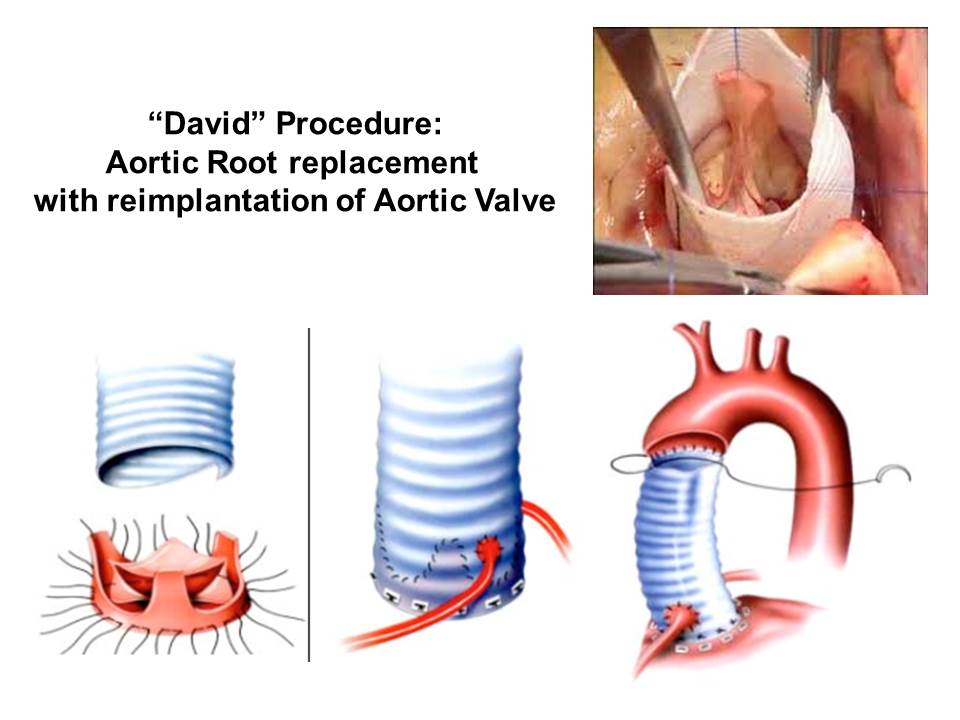 David procedure
In contemporary practice, in experienced units, the operative risk for elective surgery in these patients is under 1%; anticoagulation therapy is not required and valve-related complications are rare. According to current guidelines, valve-sparing procedure is now recommended in young patient (Class I, Level C evidence).
My mission is…
to help patients whose lives are currently affected by heart disease and encourage take the first and most important steps toward a possible calmer, easier and healthier life.
 As a highly skilled heart surgeon, I specialize in surgical interventions to repair or replace damaged heart structures. These interventions can range from minimally invasive procedures and angioplasty surgery to open-heart surgery, for instance minimally invasive bypass surgery, depending on the severity of your heart condition.
 It is important to note that heart surgery is not always the first line of treatment for heart conditions. However, in cases where other treatments are not effective, a heart surgery can be life-saving.
 I have 30+ years of experience in performing complex heart surgeries and am equipped with state-of-the-art equipment to ensure the best possible outcomes for my patients.
 I understand that the decision to undergo heart surgery can be overwhelming, which is why I provide a comprehensive pre-surgery consultation to answer any questions about cardiac surgery you may have, as well as post-surgery care to ensure a smooth and speedy recovery.
 If you or a loved one are experiencing heart problems, I encourage you to take action and schedule a consultation with me. As a heart surgeon, your heart health is my top priority, and I am here to support you every step of the way.
 Don't wait any longer – take the first step towards a healthy heart today by contacting me to schedule your consultation.